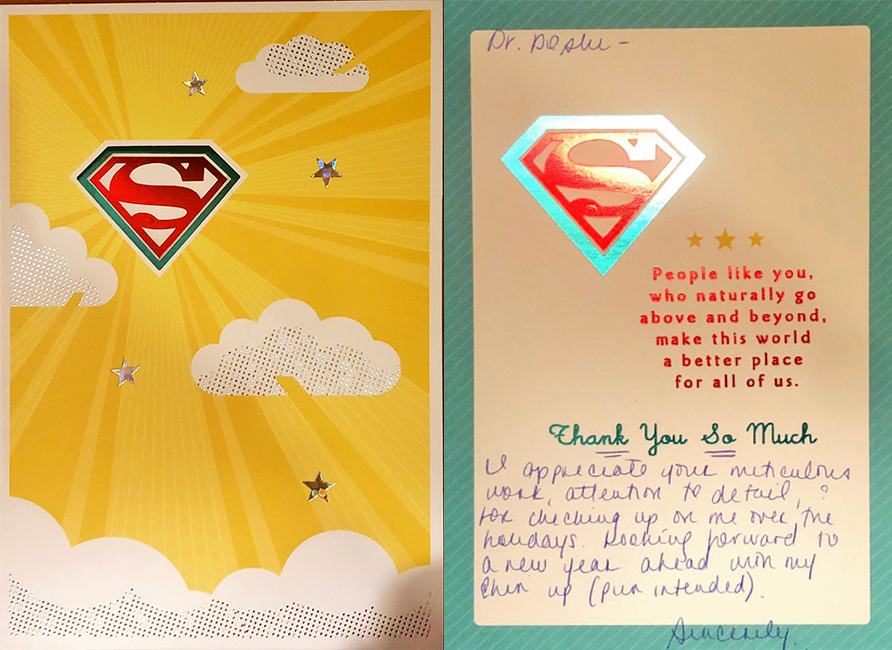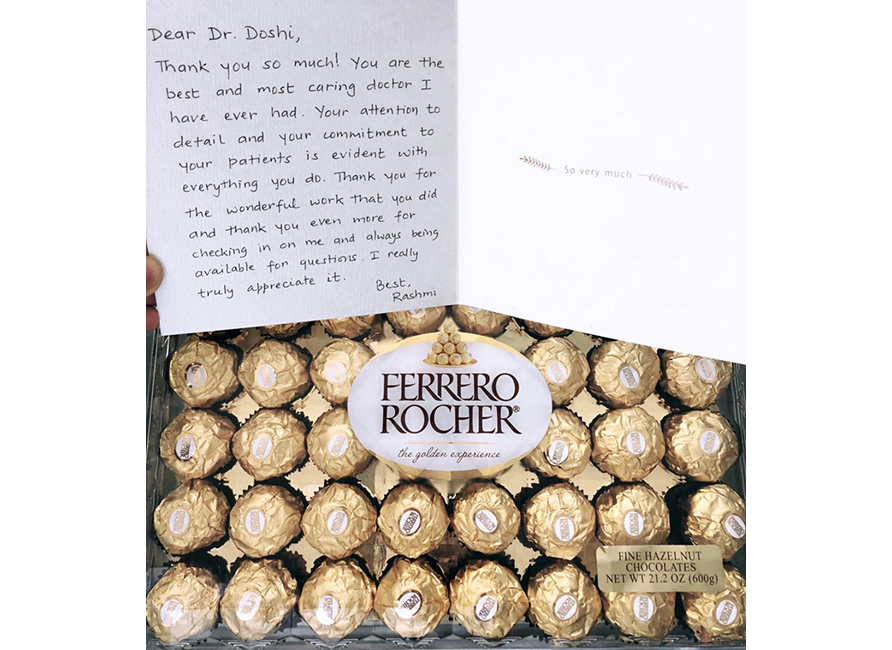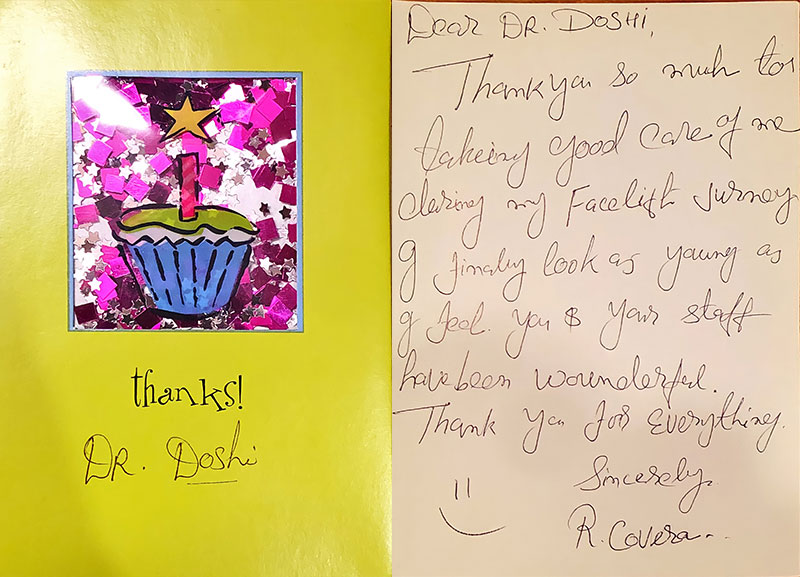 "Had the most amazing experience with Dr. Doshi. He really knows his craft and is so calm and comforting during what can sometimes be a nervous experience for a 1st timer! He explained everything step by step and had a very kind demeanor. The results were amazing and very natural. I will definitely be back!" - Sarah Salinger
---
"Dr. Doshi is by far the best plastic surgeon I've ever seen. I was extremely new to botox and filler when I first saw him for a consult. He helped me decide which treatments for which areas were best and I couldn't be happier with the results. He went through every step with me and made sure I was comfortable throughout the whole process. He even worked late hours to take care of me at the time I needed. I couldn't be happier that I discovered him and I would recommend him enthusiastically to anyone in need of a plastic surgeon." - Bella M.
---
"Dr. Doshi is great! I wanted to try Botox and he came highly recommended. He is meticulous and thorough, but never pushes you to do anything extra. Injections are quick and as painless as possible-- and my results have been fantastic!" - Erin Jones
---
"He is a fantastic doctor. Extremely knowledgeable, thorough, detail oriented and very kind. I highly recommend him!" - Audrey Molloy
---
"Don't know where to begin, Dr Doshi is the best! He makes you feel so comfortable. He is very knowledgeable ,explains everything, gives you the answers to each and every question you may have, I had many. Best bedside manner of any doctor I ever met. That in itself says a lot as I work for a surgeon. Aside from his awesome patience, he is an excellent surgeon. He is a perfectionist and his skills are simply amazing! I have had a few procedures and I am planning more. He will remain my forever plastic surgeon" - Mariellen Callaghan
---
"Dr. Doshi is the most amazing M.D. / plastic surgeon. At time of emergency and crisis, he was just a phone call away, more than willing to stitch a difficult, small area. I was super nervous but the second I walked into his office he put me at complete ease and talked me through his process. He even stayed late to make sure I was 100% taken care of. He is immensely accommodating and goes out of his way to care for his patients. He makes sure you know everything about your procedure. He is responsible, trustworthy and so caring. Dr. Doshi is so professional yet makes you feel so comfortable. Now, my stitches are off and I have no scar. I am more than happy that I went to him over anyone else. I enthusiastically recommend him to anyone in search of a plastic surgeon." - Skylar Kay
---
"Awesome doctor and amazing team with Andy, Crosby and Madelena. I would recommend Dr Doshi and team to everyone for hair restoration solutions." - Arindam Dey
---
"Dr. Doshi is a wonderful professional who takes his time with each client, making them feel respected and comfortable. He takes his job seriously and you can tell by his passion" - Annie Littlefield
---
"He made me feel very comfortable. I appreciated his patience!" - Lauren Martella
---
"Dr. Doshi did a painless procedure of Botox on my face. I feel like I look beautiful - no more expression or frown lines. Not only was it painless but also a good price. Beauty Bar is a special place to be pampered and beautified. Efficient, accommodating and friendly staff. I highly recommend Dr. Doshi for your next Botox treatment, he is now my "go to" doctor." - Bonnie Salsone
---
"In the past I was so nervous to get any kind of Botox or filler because of the obvious reasons, what if something goes wrong, how do I know the person doing it is going to do what I ask, I don't want it to look like I've gotten anything done. But let me tell you, when I went to meet with Dr. Doshi, because he was recommended by a friend, all of those worries went away. He's so kind, patient, gentle, and knowledgeable, explaining and understanding my hesitation that towards the end of my first consultation with him I knew I was in the right hands. I'm so beyond happy with my results and would recommend Dr.Doshi to anyone! Even if you think you have already found the person to do any of your Botox or filler I would think again, because Dr. Doshi really is your guy, he's a true gem." - Erin Gabriel
---
"I recently had the pleasure of meeting Dr. Doshi at Beauty Bar 1947. After having been to numerous plastic surgeons in both NYC and LA for Botox with less than stellar results, he was such a breath of fresh air! After asking around and looking for reviews, Dr. Doshi's name seemed to keep coming up. I decided to go in for a consult and it was the first time I felt like the doctor was really listening to me and what I wanted to achieve. He was super thorough in his recommendations and explanations and he took the time to answer all of my questions in depth. I felt comfortable enough to come back and give it a shot. I have never been happier with the results! He was so kind and was able to achieve exactly what we had spoken about at the consult. I would absolutely recommend anyone considering Botox to see Dr. Doshi!" - Katelyn Patey
---
"I saw Dr Doshi for the first time at Beauty Bar 1947 in Long Beach NY. I was reluctant to get Botox from anyone other than the very well known Dr I had been using for years - in NYC. I honestly did not think I could find someone fantastic on Long Island - no less in my own backyard of Lido Beach. I was sooo wrong! Dr Doshi has a very calming way about him - he listened to what I wanted to achieve - and took the time to find out what was important to me. His knowledge, along with his patience made me feel completely comfortable - I immediately felt I was in good hands - and I was right. Going a step further - I have questioned Dr Doshi on the latest in fillers / plastic surgery - and he knows every detail on what's real and what's BS. I absolutely adore him - for so many reasons. The office is sleek - all white - crystal chandeliers- the staff is professional - discreet - and welcoming. The fact that they had to move to a larger location within a year of opening is a testament to the fact that they KNOW what people expect - and they deliver. I recommend Dr Doshi to anyone seeking fillers/ Botox/Plastic. You will be thrilled you made the move!" - Ingrid Dodd Public Relations
---
"Thank you doctor Doshi for my beautiful nose☺️ I feel much more happy!! You are professional ! I already recommended this amazing doctor my few friends. I trust only this doctor now after my first procedure with him." - Alicee Bolt
---
"Went to Dr. Doshi for a hair transplant and after meeting him immediately felt relieved that I went in to see him - right away he showed me what I could expect and let me ask any questions. The actual process from start to finish took several hours and Dr. Doshi did an incredible job throughout the entire process - if anyone is contemplating a surgery of any kind that he does, would 10/10 recommend him as the guy for the job." - Tommy
---
"Dr. Doshi is a straight shooter who gave me the honest low down on my turkey neck. He and his staff have been tremendously helpful and responsive with my questions. The experience was seamless with a natural result. I am no longer self conscious of my neck when I wear a collared shirt after my neck lift." - Nick Loft
---
"I chose to visit Dr. Doshi after hearing from some friends rave about his surgeries. I decided that after having a deviated septum since many high school injuries, it was time to get my breath back again. He was the third or fourth physician that I went to for a consultation, and he was the nicest and most reassuring of them all. Dr. Doshi was so patient and kind during the whole process and answered all of my questions before even talking about scheduling; refreshing to see a doctor just want to make sure I was comfortable before talking money or anything else. After a day of thinking it over, and given the information packet from his Huntington Office (which was lovely by the way - the staff there was awesome), I called them back and scheduled my surgery. I'm now able to breath perfectly and I couldn't be happier. I couldn't recommend Dr Doshi more, absolutely wonderful physician and a great experience overall." - Zachary NIcholas
---
"I scheduled a consultation with Dr. Doshi after seeing his before and after images online. I was so nervous at first as I've never had any facial treatments before, but within 5 minutes Dr. Doshi had completely put me at ease! He answered all of my questions & reassured me that he could achieve the natural look that I wanted - and he was telling the truth! I got Botox on my forehead lines and crow's feet and I am SO happy with the results. Thank you Dr. Doshi!!!" - F. Gillespie
---
"My experience with Dr. Doshi has been wonderful from the 1st consultation to the post-surgery appointments (which I still proceed). I really feel that I'm in the best care and that everything I say matters and is taken into account. I went for a rhinoplasty (December 17, 2017) finally after YEARS of covering up my nose with glasses and can now confidently walk down the streets with contacts! I was so happy how natural the results were and how much it's beginning to fit into my face. Dr. Doshi told me everything to expect and received no surprises. I'd like to thank you again Dr. Doshi for everything! See you at my next appointment :)" - Tal Zaroom
---
"We are talking about the best :) , My experience with Dr. Doshi has been wonderful and very professional from the 1st consultation to the post-surgery appointments , highly recommended for rhinoplasty " my experience " ;)" - I ssam
---
"An amazing experience dr. Doshi makes you feel so comfortable and gives you as much time as you need. Professional work love him !!!! Highly recommend dr. Doshi !!" - Grace Yazbeck
"I visited Dr. Doshi after hearing from friends that his talent was matched by a caring and calming demeanor. It was only my second time getting Botox as I've always been a bit apprehensive when it came to procedures involving needles. Dr. Doshi was so patient and kind during the consultation reassuring me that it would be quick and painless. He was right! He listened to my concerns and understood that I wanted a natural look keeping movement in my brows. The results were better than I could've hoped for. I'll be back for under eye fillers! Absolutely wonderful physician." - Jenni Davids
---
"My experience was excellent. Dr Doshi and his team are great listeners and are very experienced and knowledgeable. There is no pressure to buy any treatments. He is honest and straightforward. I have been back for several treatments (Botox and under eye filler) and have been very happy with the results every time." - Amanda OGrady
---
"Doctor Doshi, is amazing doctor and stuff. He was very very GENTLE HAND doing my earlobe surgery. He explained everything and show me before and after. It's like nothing happened he's the best doctor. I can't thank him enough. Great Job DR. DOSHI. I highly recommend him to all my colleagues. I'm sure I will see him again. Again thank you for doing a GREAT JOB" - Meiji Co
---
"Handsome. Funny. Easy to talk to with warm bedside manner. Does excellent work. Simply the BEST." - Jane Shepherd
---
"Had botox and under eye filler with Dr. Doshi. Both results have been fantastic and am very pleased. I was initially nervous to get the under eye filler, but his calm demeanor and knowledge put me at ease. I had no bruising or pain after the filler and there was no lumpiness. Go see him!" - Mia Davis
---
"I came to Dr. Doshi for a mole removal by my eye - a really noticeable and sensitive area. But after just one consultation visit, Dr. Doshi's calm demeanor reassured me of any concerns that I held about the procedure and attentively answered all my questions. Not only am I extremely pleased with the results but you can easily tell that Dr. Doshi and his team genuinely care about their patients. I highly recommend him!" - Olga Savuk
---
"Dr. Doshi did my non-surgical rhinoplasty with filler 3 weeks ago. I had almost no bruising and he used numbing cream so I had no pain during the treatment. I had a moderate sized bump at the bridge of my nose, but he blended the filler so well that you would never know. Very happy with the results. Thank you again, Dr. Doshi!" - Patricia Davis
---
"Doctor Doshi gave me my confidence back after a truck driving accident left me with a long standing broken nose and deep scar. I saw him 7 months before I was to be the best man for my brother's wedding. He really helped to get my nose straight again and got rid of the scar at the side of my nose. Thank you doctor." - Jason W.
---
"Dr. Doshi paid a great amount of attention to my concerns and diligently answered all my questions. I have been getting injections, botox and fillers for over 10 years and have not met a more professional and knowledgeable surgeon who truly cared not only about my level of satisfaction, but also ensuring I was comfortable. His artistic eye left me thrilled with the results and his friendly temperament put me completely at ease." - Lauren Horak
---
"I had a rhinoplasty and hair transplant procedure done by Dr Doshi and I love the results! He is very patient, knowledgeable, positive and establishes trust with ease and took away any apprehension I had regarding the procedures. Most importantly, I felt very comfortable with him. I visited a couple of doctors for consultations before seeing him, but none of them were even close to being as good as him. Any future surgeries, I would go to him, hands down. The best doctor there is!" - Tej Chak
---
"Dr. Doshi is amazing. Period. I took my mother to see him since she was worried about her jouls and the loose skin around her neck. We visited other surgeons who told us that my mother needed very extensive surgery to get the results that we were looking for. But during the consultation with Dr. Doshi he was very knowledgeable and explained why she did not need such extensive surgery as the other doctors had told us. My mother is now 3 months from a miniface lift and is very happy. She looks like she did when I was younger!" - Willow Peck
---
"Dr Doshi has been a savior to my health!!!!!!! I emergently saw Dr. Doshi after another injector at another office had injected my lips causing it to turn blue and blister. I was told it was bruising by that injector, but it started to hurt more and more and I knew something was wrong. Dr. Doshi saw me immediately when he heard what was going on. When I saw him he examined me very carefully and came up with a very detailed treatment plan. Within two days, my lips started to turn the corner and back to their pink color. He was also able to keep the shape of the lips that I wanted. Through this whole process he constantly checked up on me and came in after hours to see me in his office. I am very thankful for his care and now really understand (the hard way) the value of going to a skilled and caring surgeon." - Joanna Scott
---
"I had surgery with Dr Doshi earlier this year and cannot thank him enough. The man is a magician. The scars are barely visible six months on -it's incredible. I never imagined that the result would look as amazing as it does." - Vicky Little
---
"Dr. Doshi performed my rhinoplasty surgery around 4 months ago. I had trouble breathing from the right side (since I was a child) and was not happy with the overall shape. During my consultation he listened closely to what I didn't like about my nose and the problems I had with breathing. He spent his time examining both the inside and outside of my nose and explained why I was having trouble breathing. He also went over things that could be done to improve the shape my nose without making me look like someone else. I was pretty nervous on the day of surgery, but was calm after his reassurance. I remember right after waking up from surgery, I took a deep breath and for the first time I could actually breathe! He took the cast off a week later and my nose was gorgeous! My own mother couldn't stop staring at how perfect it was!!! Dr. Doshi really cares about his patients and goes above and beyond to make you feel comfortable and make sure all your questions are answered. Most importantly, he is a very talented doctor. The absolute best!" - D Mann
---
"My initial experience was so positive that I trusted him and his team from day one. I had rhinoplasty surgery and I'm loving my new nose! I feel more confident in pictures and I'm not worried about how my nose looks anymore. I am so happy I decided to go with Dr. Doshi for my rhinoplasty procedure, I would highly recommend him." - M. Diaz
---
"I couldn't be happier with the results of my rhinoplasty!!! Dr Doshi made the whole experience stress-free and gave genuine and honest advice throughout the process." - Mike Gurchik
---
"I saw Dr. Doshi at his Huntington office and I am very very satisfied with the amount of care and compassion shown. I have very low pain tolerance and Dr. Doshi was very aware and would always warn me before injecting. Dr. Doshi informed me of what the game plan would be and kept updating me throughout the way since he knows I'm pursuing medicine. It's details like these that make happy that Dr. Doshi was the one injecting me!" - Raquel Jiménez
---
"I was always very confident until I noticed drooping skin on my neck. I'm in my 50's so I decided to do something about it hoping it would restore my confidence. I had a consultation with Dr. Doshi & chose to have a necklift. He is amazing at what he does, I am now a few weeks post-op & I couldn't be happier. Not only does my face look thinner and refreshed, I look years younger. Dr. Doshi made me feel so comfortable from start to finish, I would highly recommend him." - Alex K.
---
"I would first like to say that initially I didn't have much knowledge on lip fillers or injections so when I came to Dr. Doshi I knew I was at the right place. Dr. Doshi took his time out to explain every single question I had thoroughly and patiently. I didn't feel any pressure or pushiness to have anything done. Also I felt very respected and comfortable while speaking with him. After speaking to Dr. Joshi and getting all the information that I needed in order to make a decision I decided to get lip fillers. Of course I was nervous at first because I have never received any cosmetic procedure like this before. Upon my arrival Dr. Doshi made me feel extremely comfortable and explained the procedure that he was going to do for me. His calming presence really helped relieve my anxiety and make me feel more excited for the outcome. During the procedure he worked very patiently and diligently to make sure that I received the best result possible. I also had explained during our consultation that I was looking for a more natural look and did not want it to be obvious that I received any filler. Needless to say the outcome was impeccable and I have received so many compliments on how natural and perfect they look. Personally I bruise very easily and I had very minimal bruising which went away in about two days but was nothing serious at all. I felt completely fine after I received my lip injections and went right back to work. He even called me to make sure that I felt fine and was happy with my results. Overall I will never go to another facial plastic surgeon or let anyone do anything to my face unless it is Dr. Doshi. I truly recommend to contact him if you are looking for any cosmetic procedure from the neck up. He is a very knowledgeable doctor and I felt extremely calm and confident instead of vulnerable and anxious. He strives for nothing but perfection. Thank you Dr.Doshi! I'm extremely happy." - Jessica Walker